So today, instead of posting some favorites from Pinterest, I decided to clean up my blog reading roll. While I'm doing that, I wanted to share with you my favorite blogs that I love for inspiration. Maybe you read them too?
Numero Uno:
Pretty much if I only read one blog the rest of my life, it would be this. I laugh out loud almost every time I read it. Maybe we both have a sick sense of humor? She does amazing crap, like tiling, wood projects, molding, etc. and I always wish I were as awesome.
#2 Inspiring Style Blogs:
Another Mandi blog. Vintage Revivals just always inspires me. She takes simple things and makes them awesome. She does huge epic room makeovers. I may not do everything her style, but I do look at things differently after seeing some of the sweet stuff she does.
This is another one that I know I've showcased before. It's a husband/wife duo that come up with some unique art and designs and always showcase unique things they find too.
#3 Food Blogs
I can't find an image to show, so why not some delicious food? I made this a few weeks ago and hubby and I were literally licking our bowls. I love Mel. She has been my go-to for recipes for a few years. I'll always check her site first when I need to make something.
This is a newer one for me, but I really like their site, but I've only made a handful of recipes so far. But I wouldn't mind having their cookbooks
#4 Graphic Design
I pretty much love this blog. But she is also an amazing designer, so I love seeing her works of awesomeness.
This is another one. She has great ideas and projects, but I really love her graphic designs and printables.
#5 Great Ideas all around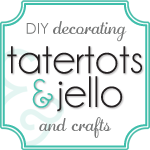 While I like Tatertots and Jello, she's a fellow Utahn, I love her HUGE linky party every week. Then she showcases things throughout the week. Once you've been showcased on her site, you've made it. Maybe not, but it really is THE place to be. I need to be better about linking up.
Again, another fellow Utahn (there are a TON) but I like her clean, fresh style, and while we wouldn't do our house with as much white, it certainly is inspiring to see a house that looks like the magazines, mainly cuz she's been in them.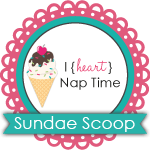 This blog is a good one to follow, because she also does a big link party and showcases them too. She's also got fun kid craft ideas.
#6 Fashion-eque Blogs
K, this isn't a fashion blog, but I love when she puts her fashion inspirations on the blog. I pin them 99% of the time. But she also has lots of fun crafts, and I love her holiday décor style.
This is a blog where she shows how she's trying to use what she already has, instead of buying tons of new clothes. Great ideas.
I want to find a fashion blog that is purely fashion, but something I can relate to, and inspirational! Any faves from you?
#7 Organizing
There's really no other blog I read in this category, but she has SO MANY ideas, and then she showcases other people's amazing organization skills. It's pretty inspirational.
#8 Kid Crafts & Learning
When I'm on top of things, and doing preschool with my kids, I ALWAYS use her plans and ideas. When I just need a quick craft, I come to her. I have a ton pinned on my board Kid Crafts or Learning is Fun too, but this is usually my first stop.
#9 Blogging Crap
While I enjoy her ideas, her link party features, and her recipes, I really like that she does blog tips, and she runs the SNAP! conference. I covet that conference. Don't you think they should invite a nobody seamstress to it? Because the tickets sold out ridiculously fast. But seriously, this is an interesting blog.
I should probably have a sewing one too, huh?
#10 Sewing Blogs
No-brainer. She sews a ton of stuff for her kids and home, so this is a no-duh blog. Always inspiring and helpful.
This one I found while perusing Pinterest, and I stayed. She does refashioning and lots of sewing for kids and house too. Love it!
#11 Deal Sites
Freebies 2 Deals has awesome deals that are nationwide. Great for helping with your budget!

This is a deal site specifically for Utah, but some are national too. Between those 2 sites, I save tons of money!
So those are my favorites
Some honorable mentions?

So there you go! I'm of the belief that if the blog I'm reading isn't inspiring me or what not, I shouldn't use my time to read it. But these are definitely on my list. I have a bunch others I read, but I haven't decided if they're staying or not….What's on your list?