This is a Sponsored post written by me on behalf of Duck Brand® for SocialSpark. All opinions are 100% mine.
I promise I'll be back soon with some awesome crafts. It's been weird, you know? But, when I saw this stuff, I had to show you. Did you know Duck Tape® comes in all sorts of awesome colors and prints? I knew about the camouflage and some of the colors, but seriously. They have a new line of holiday prints. It's pretty sweet. Like, can you imagine making a wreath

(by just wrapping tape around a foam form) with this tape?
Or this?

Or argyle, polka dots or hounds tooth? Be still my heart.
Or make a fun craft with the kids with this fun reindeer print.
Or give your hubby a roll of this? (or keep it for yourself?)
Tons of great colors, and it even comes in NFL or College teams?! Not USU, sadly, but I guess since I have my bro for Christmas I could get him this.
Or not. I don't want to support an addict. Seriously. He made a suit from Duck Tape® one year. For Prom. Luckily it was on April Fool's day and his date was a great sport. He goes to school at the U, but he always was kind of a black sheep. I kid!
It also comes in sheets to make it even easier!!

You can buy it in hardware stores, Hobby Lobby or other craft stores, or even online at the place I spend all my money anyway.
K, now that you've seen the awesome colors, imagine doing this:
Fun purse for a gift for a tween girl in your life
Or a whole slew of flower ideas on this Pinterest board. Use those to top your gifts? Fun!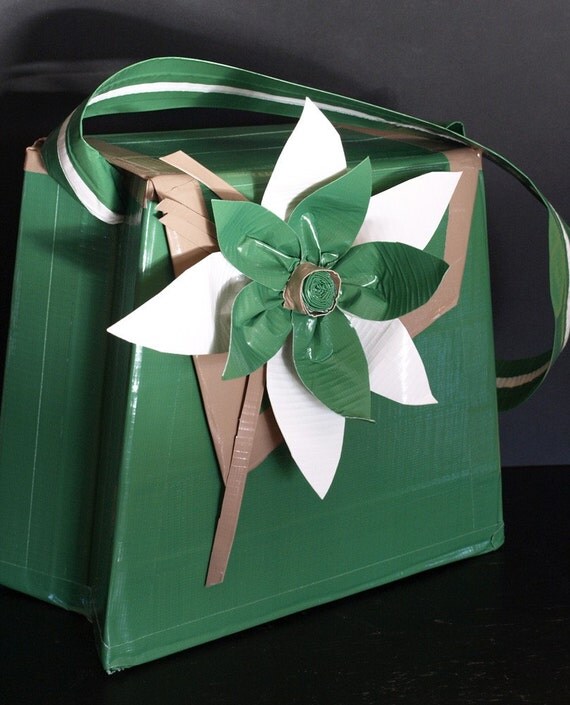 I think that's one of the coolest Duck Tape® handbags I've seen.
Pretty freakin fabulous stocking.
Yes even a plaid tie.
Seriously. I've found a new love for Duck Tape®. Every time I walk by it in the store, I pause and deliberate about getting some, but I haven't yet. I'm thinking I will. Today. If you want more ideas, you can over to their website and find all sorts of how-tos for DIY crafts and home repairs. They also have a Facebook page where they upload their awesome ideas and others' ideas to keep you inspired. Lots of fun!!
What would you make with Duck Tape®?