When I say easy, I mean, around an hour. Maybe less. Also, using things you may already have around the house. Interested? Okay, here they are.
First, for girls, friends, daughters, etc. I Heart Naptime brings us the Vintage Lace Cuff. Her version:
My (and my Sister-in-law's) version:
She did hers with 2 contrasting colors for the petals, and had the idea of adding an extra circle in the middle, under the pearl. I did the other 4. I didn't have tulle at my mom's so I didn't put that on, but I will be making another with that. Altogether, we made 5 in about an hour. And the cost was only the stretchy lace, which was on sale at Hobby Lobby, so about $1. Total.
Second, for girls…etc. etc. repeat above. An infinity scarf. Made from a T-shirt. This one comes from Craftaholics Anonymous, via Infarrantly Creative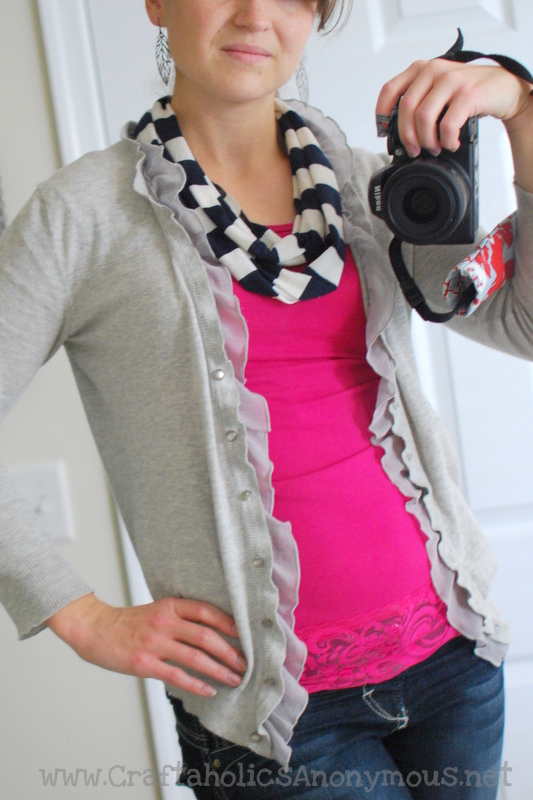 I got 2-3 scarves per shirt that I did. I don't have a picture because I already gave them away, and my shirt looked almost exactly like hers, except it was a long-sleeve turtleneck. Also easy!
This one comes from an Etsy shop, perfect for the racers/runners, athletic people in your life. Every race they do, they get a bib, and here's a way to display those!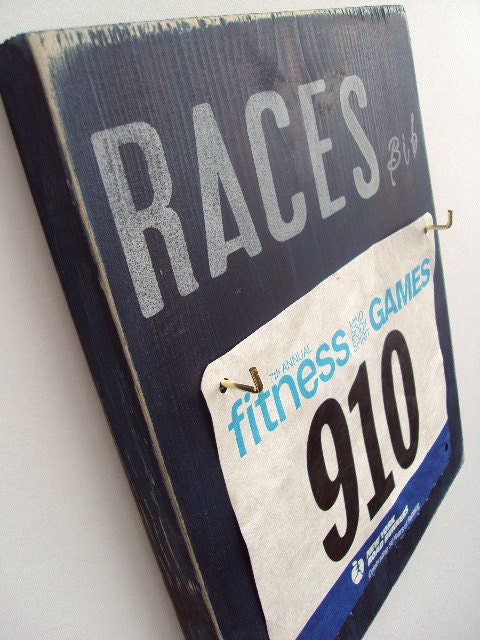 I actually did this for my hubby. It will have to wait until we get re-settled in a place to be used, but he has tons of these bibs, in all different places. Hopefully this will be something cool he can enjoy and use. I did his out of some reclaimed fence wood, because he really likes rustic, natural look, and I had it around. I cut it to size, and then hot glued the pieces together (I'm not patient enough to wood glue this!). Then, I stenciled RACE at the top (with something I printed off, since I'm not cool enough to have a cutting machine
) Since all of his bibs are currently packed, I just taped the little hooks to the wood, to screw them in when I have them to measure with. I actually cut a piece of paper to the size a friend told me the bibs were to make sure I liked the look of it. And since my hubby is #1, well…
I know the letters aren't perfect, but I intend on sanding them to distress them, so it won't even matter. I actually had painted them with watered down paint to get the look I wanted too.
For the techies in your life:
Ashley from Make it, love it got tired of tripping over phone cords charging, and who doesn't!? Here's her brilliant, and free, solution! I made this for my hubby, but I didn't put fabric or any decoration on it, so he can tell me what he wants after Christmas!
Okay, that's all I have time for right now, but I'll be back tomorrow with my final gift project! Yeah!! I'm done!!